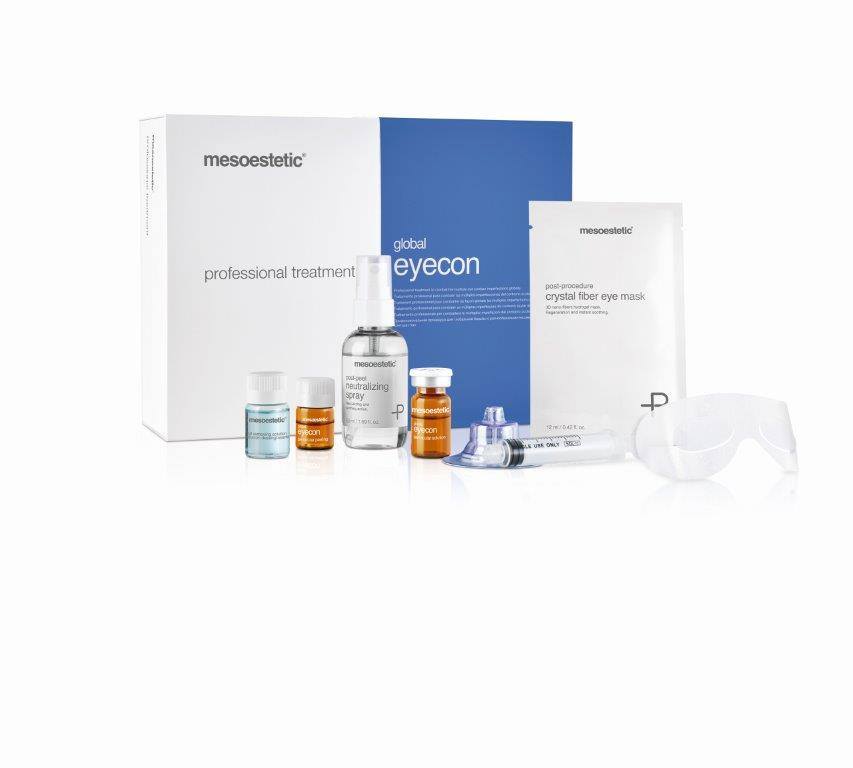 Global Eyecon
Say goodbye to dark circles, under eye bags, drooping eye lids and fine lines. This treatment is used to fight the signs of ageing and fatigue in the eye contour area. This professional treatment corrects wrinkles, under-eye bags and circles, sagging and pigmentation in the periocular (eye) area.
Main imperfection:
The delicate anatomical features of the periocular area combined with internal and external factors such as fluid retention, genetics, continuous gesticulation and skin flaccidity, makes the eye contour an area that shows the long term effects of these factors. mesoestetic Pharma Group have invested a lot of research and development into producing a comprehensive treatment to combat these aggressions and offering the treatment solution with global action combining multiple philosophies to correct wrinkles and expression lines, under-eye bags, dark circles and drooping upper eyelids. Global eyecon is a convenient, effective programme combining both a peel with a trans-epidermal solution – both exclusive for the periocular area – achieving visible and cumulative results after the first session. A solution created with products specifically developed for this area, with excellent skin and eye tolerance to achieve the maximum therapeutic efficacy. The global eyecon periocular treatment protocol is a programme comprising of 6 sessions, alternating 3 periocular peel sessions with 3 trans-epidermal sessions.

How does it work?
The 1st, 3rd and 5th sessions consist of application of the periocular peel, a specific peel for antiaging and antifatigue treatment of the eye contour containing ingredients with depigmenting and antiaging action. It has a gel-like texture preventing product migration for greater safety during application.
During the 2nd, 4th and 6th sessions, the periocular solution is used which is a transepidermal solution containing ingredients with depigmenting and decongestant action in the microcirculation. It is suitable for vehiculation with microneedling (we use mesoestetic m.pen[pro] technology).
After using the microneedling technique, the crystal fiber eye mask will be applied, a hydrogel mask with depigmenting, moisturising and antifatigue action that provides soothing, freshness and comfort after the treatment.
After care

Home maintenance is an essential to strengthen and prolong the results obtained in-clinic. These are specifically formulated daily antiaging solutions with the same care and quality as the treatment products.